SpongeBob Squarepants is the main character from
Channel Chasers
.He is a very happy and nice Sponge who lives in a pineapple in Bikini Bottom with his pet Gary.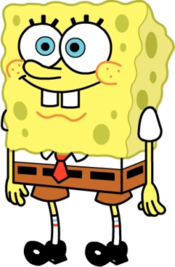 Appearance
He has brown square pants with a belt and tie on him and a white shirt underneath his pants.He has 7 holes on the front of him and 2 buck teeth coming out of his mouth.He has a nose and has blue eyes.
Appearance's In The Show
[All Of The Episodes]
Trivia
He was originally named SpongeBoy.
His best friend is Patrick Star.
His first appearance in the show was Help Wanted.
He is the fry cook at the krusty krab.
He is 28 years old.
Tom Kenny does the voice for him.
Attitude
SpongeBob is a very friendly nice person who wants to be friends with everyone.SpongeBob acts like a kid and loves jellyfishing and blowing bubbles.SpongeBob always thinks positive to about everything.SpongeBob also loves his job.