Welcome to the Channel Chasers Wiki
This is the official wiki based on the SBFW spin-off Channel Chasers.
The SpongeBob Fanon Wikia Central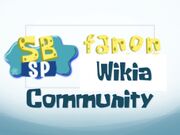 The Channel Chasers Wiki 
is a member of the SpongeBob Fanon Wikia Central, a large community of SpongeBob Fanon Wikis, hope you come accross and meet new friends in the wikis from the SpongeBob Fanon Wikia Central!
Members:
SpongeBob Fan Wiki
SpongeBob Fanon Archives Wiki
SpongeBob Fanon For Kids Wiki
Espanyol SpongeBob Fanon Wiki
SpongeBob Filipino Fan Wiki
Channel Chasers Wiki
Shamm Entertainment Wiki
Welcome to Bikini Bottom! Wiki
Sponge Reaper Wiki
Malaysian SpongeBob Fanon Wiki
Latest activity
Photos and videos are a great way to add visuals to your wiki. Find videos about your topic by exploring Wikia's Video Library.